Win A Free Steak Dinner On Us!
How Has Barbecue Made an Impact on The Relationships In Your Life?
Barbecue has a very special way of bringing people closer together. Every time you share a meal and a memory with your friends or family, your relationship becomes just a little bit deeper.
We believe these seemingly insignificant moments are actually quite powerful and inspiring!
Maybe barbecue has helped you reconnect with old friends or find a whole new group of friends.
Maybe you got to spend some quality time with your son or daughter teaching them how to smoke meat.
Or maybe everyone looks forward to coming to your house for parties because nobody can make pulled pork as good as you can!
You may not think that your story is inspiring or worth sharing…but we do and we want to hear it!

14 Day Dry Aged Boneless Ribeye Steaks (2x)
If all your story ever did was convince one person to spend an extra hour eating together with their family each week instead of staring at their cell phone or television screen, would it be worth it to take 5 minutes to share your story?
We have the ability to amplify your story so it reaches thousands of people. Imagine for a moment the impact it would make if we not only shared your story, but the stories of hundreds or thousands of other people that barbecue has impacted.
That's why we're doing this. Together these stories have the power to bring the world closer together.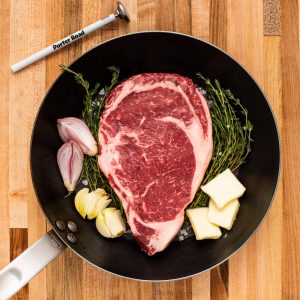 "No need to break out the fancy cooking techniques or seasonings with this cut of meat. Natural marbling and a fatty cap makes it stand out as one of our most tender, juicy cuts. Like all our beef, the ribeye is dry aged for at least 14 days, creating an incredibly flavorful piece of meat."
HORMONE FREE ● NO ANTIBIOTICS ● PASTURE RAISED
Barbecue Brings Families Closer Together
Monthly Free Steak Dinner Giveaway Rules
The story must be real and be about how barbecue/cooking has made an impact on the relationships in your life. It doesn't have to include Cave Tools or Grill Master University but if we somehow helped you along the way we would appreciate the shout out
A new winner will be chosen at random every month
Your submission is eligible to win every single month going forward
You can share multiple stories for more opportunities to win
*We reserve the right to use any information or media submitted here in our marketing materials
** In the event the listed prize become unavailable, we will ship a prize of equal or similar value to the winner.