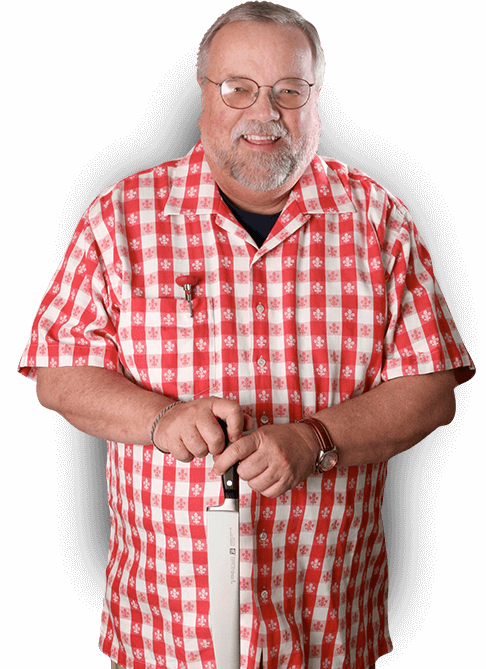 Rick is a renowned barbecue pitmaster, chef, journalist, photojournalist, author, and TV cooking show host, who has traveled the world on assignment for consumer, travel, news and airline magazines. 
Rick conceived of, created and was the Editor-in-Chief of Barbecue America Magazine, the nation's first and only national magazine devoted to barbecue, grilling, outdoor cooking, barbecue competitions and the barbecue industry.
He has been a spokesman for many of the nation's largest grill companies, as well as fulfilling that roll for the companies noted below.
He was also the creator, host, and executive producer of public television's popular Barbecue America TV series (described as the first cooking and travelogue series highlighting America's and the world's outdoor bbq & grilling culinary landscape), which, in its seventh season, was aired on more than 230 public TV stations nationwide. He has also conceived, co-produced and hosted two seasons of the Outdoor Channel's cooking and travel show: "Ready, Aim…Grill."
Rick has authored 15 best-selling cookbooks about barbecue, grilling, outdoor deep-frying, and smoking. Currently he was asked to update his Frequent Fryer Cookbook for Lyons Press, is writing a grilling cookbook for a Korean portable grill company, and his 1,001 Best Grilling Recipes sold out its first printing and was just re-released in an updated and re-designed 2nd edition. He has books on Barbecue Desserts and BBQ Seafood in the planning stages.
His journalistic travels have taken him literally all around the world including visits to 47 states of the US, Mexico, Canada, England, Ireland, Scotland, and Wales, France, Austria, Spain, Switzerland, Portugal, Russia, Germany, and Hungary, Japan, Hong Kong, China, Thailand, Singapore, Indonesia, Korea, and Vietnam, Morocco, Somalia, and South Africa, Australia, New Zealand, Fiji, and Tahiti, Argentina, Brazil, and Uruguay, St. Bart's, Antigua, Guadeloupe, Jamaica, and the Bahamas.
Cooking with Smoke 101 is an in depth online course that will teach you how to Master Your Smoker and cook delicious meals that are the envy of everyone you meet.