THE GRILL MASTER UNIVERSITY STORY
My name is Michael "Medium Rare" O'Donnell and I'm the founder of Grill Master University.
I didn't just wake up one day decide that I wanted to start an online cooking school that could help bring families closer together. This website and the work we do here was the natural progression on my journey into a becoming a man.
But to do this story justice, I need to take you back to August 2015 in Lithuania of all places…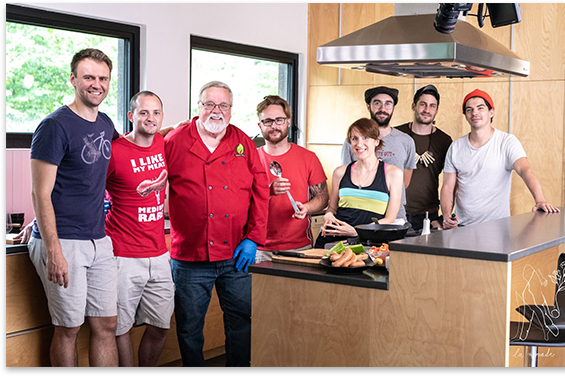 …I'm sleeping in a hostel dormitory room with 7 strangers when all of the sudden I wake up and reach for my phone only to find out that my power plug fell out of the wall overnight and it's dead. In a daze, I plug the phone back in, turn it on and take a look at the clock. I slowly realize that it's 10 am and my 7:30 am flight back to the states was long gone.
A few months earlier I received an email touting an exclusive entrepreneurship camp in Lithuania where the attendees would have the opportunity to receive free mentorship from 5 wildly successful businessmen. I filmed a short application video explaining how I had started a small barbecue accessories company called Cave Tools but was living at home working 80 hour weeks struggling to get it off the ground. With thousands of applications per year it was a long shot, but to my surprise they accepted me and I made arrangements to attend one of my first ever solo business trips abroad.
But now the conference was over and everyone had gone home. I was all alone in a foreign country with nobody but myself to rely on. Instead of panicking and scrambling for the next flight home, I decided that I was going to take a walk to think things through and then figure everything out when I got back.
However, during my walk I realized that I didn't actually need to go home right away. We had a pretty good team in place and I had already missed the flight, so I decided that I was going to travel for another 2 weeks while working remotely and then go home. During those 2 weeks the company didn't burn down, in fact, we thrived.
On the flight home, I did some more thinking and realized that if I didn't get out of my comfort zone and go travel the world now while I was young, I might never get the opportunity again. So for the next 5 months I worked on building all of the processes and systems that would allow me to work remotely for a longer period of time while still building and growing Cave Tools.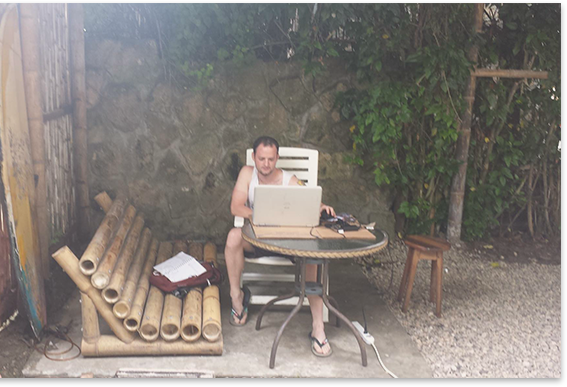 In 2016 I finally achieved my dream by traveling to and living in 20 different countries that year across South America, Europe, and Asia. I worked diligently Monday through Friday and then explored on weekends. This wasn't a vacation; it was regular life… just in different countries.
When I came home for Christmas that year I remember seeing many of the travelers I met along the way posting selfies alone at the beach in exotic locations. It made me realize how blessed I was to have such a loving and supportive family back home. While travelling the world was an amazing experience, I knew that I wanted to settle back down in Pennsylvania so I could be close to my family.
One of the best ways I always found to forge deeper more meaningful relationships with friends and family was through food. You could be a white collar businessman and the next person could be a blue collar union worker. On the surface you may not have a lot in common, but we can all get together and bond over food.
Food has a special way of bringing people closer together. I like to refer to food as the glue in relationships. In my family, my grandmother is legendary for her meatballs and growing up we would all prioritize our busy schedules for a get- together because we knew that grandma's meatballs were going to be there. It's the same thing for my mother, who is known for her chocolate chip cookies.
I decided that I wanted to be known for the best damn smoked pulled pork sandwiches to ever grace this earth and that one day that would become the glue that kept my friends and family together. My only problem was that I wasn't a very good cook and I had never actually made my own smoked pulled pork before.
So I set out on a new journey. This time, I was going to seek out and hire some of the best barbecue chefs in the world to be my personal mentors. I quickly realized that there are tons of amazing pitmasters all over the country who were willing to give private lessons. But they could be very expensive, ranging from around $500 all the way up to one that's $2,400 just for a 2 day class, not including your travel or accommodation costs.
I knew firsthand the power of being a good cook and how it could transform the relationships in my life. So I decided to bring in a film crew so we could make world class training available to everyone at a fraction of the price of personal mentorship.
Technology has connected society in amazing ways, but I think that deep personal relationships have never been weaker. At Grill Master University our goal is to use barbecue as a tool to help our students become more deeply rooted in their communities and gain a newfound sense of fulfillment.
So I invite you to start your own journey by taking advantage of all of the free resources on our blog or signing up for one of our Barbecue Masterclasses.
Always remember that when you're confident at cooking, you cook more often. When you cook more often, you end up spending more quality time forming in depth relationships with the people you love.
Cheers,
Michael "Medium Rare" O'Donnell

Grill Master University – Owner