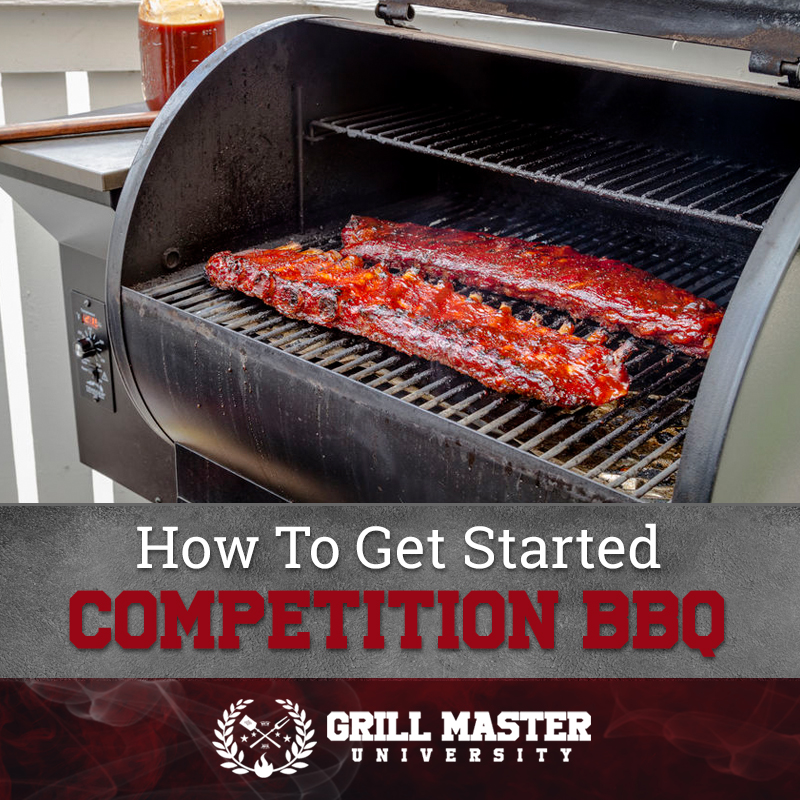 Taking BBQ To The Next Level
Have you ever been told that your barbecue is to die for? When it comes to a party, do your friends and family insist that you're the one who mans the grill? If so, then it's very likely that you have a particular skill in preparing, cooking, and seasoning meat. Have you ever thought that you could take this passion and skill to the next level by actually entering competitions? Perhaps you've seen a few competitions yourself–either locally or on TV–and felt the itch to try your hand at it. Competition barbecue is a great deal of fun and pits amateur chefs against amateur chefs. Not only is it a great way to bring attention to your cooking skills in the event that you plan on opening a restaurant, food truck, or even just a simple farmer's market stall, but it gives you the opportunity to make connections with like-minded people about meat. Understandably, getting started with competition barbecue may not seem obvious at first. To help yourself out and get ahead of the herd, follow this in-depth tutorial on how to get started in competitive barbecuing. Time to heat the grill!
Competition Barbecue - The Steps
There are quite a few different aspects to competitive barbecuing that you need to keep in mind. This part of the tutorial will lead you through each aspect, so you're prepared for a successful competition. Get those notes ready!
Getting A Team Ready
While you may be used to cooking alone in the backyard, you're going to find that you'll be quickly overwhelmed in a competition if you're flying solo. It may also be a quick impulse to just call on your friends and have them join for a day of fun and grilling. While this may certainly make for a fun time, it won't necessarily increase your chances of winning. Not, unless, all of your friends happen to be incredible chefs, too. You need a team who is ready to support you no matter what your needs may be. This part of the tutorial will assist you in building that team.
Plan
With every great endeavor, a solid plan is necessary for success. If you know someone who already has been part of BBQ competitions, or food competitions in general, it may be worth it to speak to them. They can offer insight as to what you can expect and may even have some advice on how to choose your team. If you're really lucky, you may even be able to snatch them up themselves. One of the best places you can find competitive cooks is at an actual competition. However, make sure that you're respectful. They're going to be busy trying to cook and win the competition, but if you're patient, you can glean some wisdom from their experience.
Investigate
It's also an excellent idea to take the time to learn more about your craft. Whether you just cook at home or are an actual chef, it never hurts to refine your technique and learn more about BBQ. You can find plenty of resources at your fingertips on the internet. There are BBQ groups on Facebook that you can join and connect with people about your mutual favorite past time. There are also forums that talk more about BBQ and competitions that people have been a part of and enjoy. The competitors on these forums may be willing to share recipes and techniques that have served them well in the past.
Join A BBQ Association
Did you know that there are BBQ associations? Scattered throughout each state, these associations differ in what they offer, but most typically allow their members to meet up and connect. Some even host shows and competitions. By joining a BBQ association, you can rub elbows with the state's finest. It might just be an excellent recruiting ground for you. Some of the members have been part of the association for decades, and you might just find yourself a mentor who can impart their wisdom to you.
Organize
With all of this information, it's prudent to keep a notebook, file, or even just a divider where you can store your information neatly. Make a few tabs so you can easily access them when you need to. While you organize, you should plan further by setting up a business model for your competition. After all, you're going to need money in order to buy some good equipment, transport, and hotel expenses if you intend to travel for competitions. Figuring out a budget can help relieve some of the stress and any mishaps where you suddenly find yourself short on cash.
Recruit
Fully educated on team dynamics, you can start to recruit from those associations and groups that you have joined. By watching competitions, you should have an idea of the right dynamic you need for your team. If you happen to know a few friends who can take orders, handle pressure well, and doesn't mind spending a weekend cooking up food without a guaranteed financial return, then you may want to pull them into the group. By finding reliable people who are passionate about the competition like you are, you can create the right team dynamic to see success.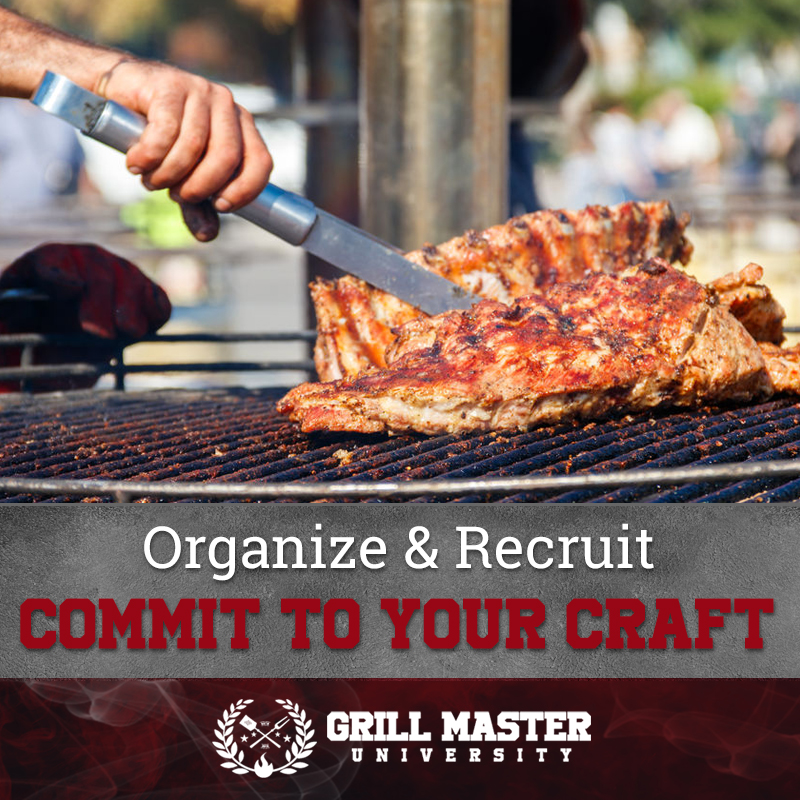 Time To Commit
With the makings of a team at your back and an interest burgeoning in a BBQ competition, you have reached the junction of whether you're going to be fully committed to this adventure or not. At this point, there's little chance of going back. If you're absolutely sure that you want to get serious with your BBQing, then read on how to commit yourself to the path ahead.
Make Yourself Executive Chef
With every team comes a leader. Since this is your venture, it only makes sense that you name yourself the head Chef. You'll be the one calling the shots, choosing the venues, and deciding which recipes to cook. You're more than welcome to certainly take advice from your team, but at the end of the day, it's your decision. It's important that your team knows from the start that you're the leader. This can help reduce confusion and misunderstanding down the road.
Enter A Backyard Competition
Perhaps one of the best ways you can test your own skills and those of your team is to enter a backyard competition. These are sometimes held alongside a big competition and can be a good way to get your feet wet. If you happen to live in a more remote area, then perhaps you can suggest to your neighbors of starting a relaxed competition. While you won't receive the same stress that comes with a professional competitive match, at the very least, you can still work yourself and your team like it is and determine if the dynamic is good. This experience will also help you decide if you want to throw in the towel or if you've developed a new addiction for the competition lifestyle.
At the very least, you're going to have a fun time. It's important to keep the focus on fun. You likely won't win every competition–be it small or large. If your focus is on having a good time with your team, family, friends, and those who stop by to eat your food, then you're going to go home a winner no matter what the official outcome.
Involve Yourself
Whether you feel that you need a bit more insight or you want to pick up more tips, you can do both by getting yourself involved in the competition. Whether through the BBQ association or through Facebook, you can volunteer your time and service to helping a competitive team out. This can be something as simple as washing the dishes or cleaning up. After all, you can be sure that the team is going to be exhausted by the end of the competition. The last thing they're going to want to do is clean up. This is an excellent opportunity for you to sneak yourself in there and learn from some of the best.
It doesn't hurt to bring them refreshments, too. While they'll be tasting their own food, most of what they make is going to be dished for the judges or for those who are coming by and ordering from them. You'll look like a knight on a white horse if you can bring them some drinks and perhaps a meal of your own that you serve them. In return, they'll be giving you key insight as to how BBQ competitions work. You'll have a front row seat to watch the stress and joys throughout the competition.
You should make your volunteer time worth it. Show some initiative by taking out the trash when you notice it is getting full and installing a new one. If you see that the grate is starting to get messy, then hop in there and do a quick cleaning. They'll be grateful for the extra pair of hands. It will also make them more inclined to answer your questions.
Speaking of questions, you should be mindful of how and what you ask them. After all, you don't want to be nosy. These could be people that you one day face off against, and you don't want to make it seem as though you were spying on them, so you could learn their secrets and exploit them. Instead, rely mostly on observing. Don't be afraid to ask if you're in the way, too. They may be too polite to tell you to stand in the corner. Be mindful and discrete and you'll find out plenty from them.
Lastly, always express your appreciation for their time and experience. Sure you were doing some hard work, too, but this is their competition and they were letting you see how they make it all come together. It's basically letting someone watch their trade secrets. By expressing your gratitude, you can ensure there are no hard feelings when you end up pitted against each other in the future.
Go To BBQ Class
Perhaps one of the biggest obstacles that will test whether you're ready to commit or not is if you are willing to attend a BBQ class. While you may have perfected cooking some ribs or chicken, you can always learn more. Take the time to research some competitive BBQ cooking classes around you. In fact, some of these classes are led by competitive cooks themselves who have had large success in their field. It certainly doesn't hurt to learn about their methods and processes.
This can be a fun experience, too. Some of these classes organize themselves like an actual competition. The instructors will help you through every facet of competition and offer advice and tips while you're in the heat of competition. Not only does this yield some excellent experience for yourself, but you can also walk away with a few secrets of the trade. The price tag may seem a little outrageous for some of the classes, but if you're serious about competitive BBQing, then the price is worth it.
Choose A Cooker
Another indicator as to if you're fully prepared and ready and willing to become a competitive BBQ master is how you approach buying your cooker. By and large, you likely don't have a cooker large enough for competition needs. One of the methods you may choose to select is to buy a used cooker. As long as they're clean, they should be good to go. It will bolster your budget elsewhere, too. Once you start seeing success in competitions, then you can save up and buy yourself a brand new cooker.
However, if your team is eager to have a new cooker on hand, then perhaps you can all pitch in together to buy a new one. If that's the case, then be sure you buy it far before a competition nears. As it gets closer to competition season, many cooker manufacturers become busy, and you might not receive your cooker in time. Essentially, order a new cooker as soon as you can to avoid lacking the necessary equipment for competition.
Become A Judge
One of the best ways that you can understand how the minds of BBQ competition judges work is to become one yourself. There are usually a few classes you need to take in order to become certified. Once you're ready to go, however, you can sit on the other side of the bench. Not only will this give you some unique experience and insight as to how judges judge, but you can also become more familiar with the rules and regulations with regards to the competition.
Practice
Another absolutely necessary step for becoming a successful competitive BBQ master is to practice. Any chance you get, have people test your food. If you want to try out a new recipe, then bring in your guests to see what they think. Make sure you get hard critics, too. Family and friends might give you positive feedback, but it's the negative feedback that you want. You can learn from it and make changes as necessary.
It's also a good way to keep track of things. If you treat each practice like a competition, you and your team will become used to the pressure and time constraints. You can examine who is slacking and who maybe needs to switch to a different job. When cooking a new recipe, it's also important that you write down every seasoning used, the amount, and cook times, so that everyone can recreate it during competition.
Implementation
Once your team has a name, it's time to take all that you have learned and practiced into the field.
Choose A Contest
Try and find a local competition first. These are good places to test yourself and your team in your first real competitions. Note any obstacles you have, so you can find solutions for the next time.
Plan Transportation
Once you start traveling further, transportation may be an issue. Rent a vehicle large enough to carry your equipment and everything else you need. Also, make sure your team knows where to go and how to get there.
Have Fun
With these tips in hand, a good team, lots of practice, and a bit of luck, you're sure to become a master of competition barbecue. If you enjoyed this article or have more tips, share in the comments!
Frequently Asked Questions