Barbecue has a very special way of bringing people closer together. Every time you share a meal and a memory with your friends or family, your relationship becomes just a little bit deeper. Grill Master University gives you an opportunity to
Win A Free Steak Dinner on us
! All you need to do is share your story about how barbecue made an impact on the relationships in your life! You may not think that your story is inspiring or worth sharing…but we do and
we want to hear it! 
We'll be sharing them on the blog over the course of the next few posts, so make sure to check back in and get some more BBQ inspiration!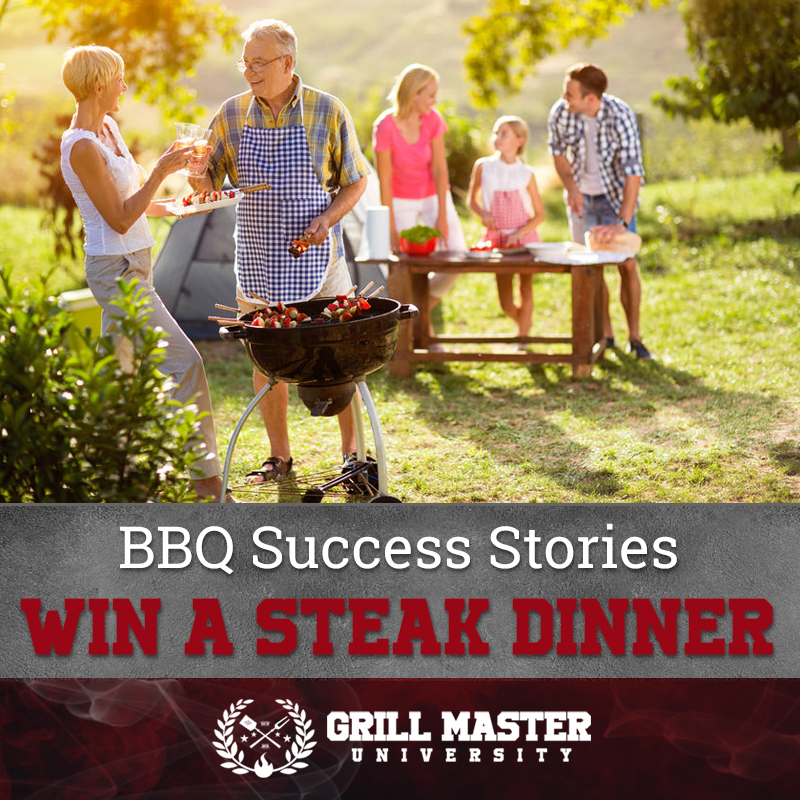 One of my favorite smoking memory is a time I smoked brisket for family and friends. Later one of those friends went out to eat with their family. They went to a local BBQ restaurant. They had brisket. Later they called me and said mine was much better than what they had at the restaurant. I felt pretty good about that.
My husband Tom & I now cook together. He grills the steaks or chops. I cook the sides. Now I don't have to worry about the timing of the meal as we both work together. He also likes the Metal Cave Tools Claws for pulled pork. It makes the process much easier. I also use the Cave Tools Injector for Prime Rib Roasts & Pork Roasts. It really makes a difference.
"After suffering a stroke and spending 4 months in the hospital, The one and only thing I could think of, was getting out and going home.. When I got home I had friends and Family do some shopping for me.. One thing on my shopping list was STEAK... as soon as they brought me my groceries, and left... I opened up the steak, salt and peppered it and wheeled out the door with my wheelchair and steak, fired up the grill with some hickory chips in the smoker and cooked my steak.. OMG.. it was heaven and right then I knew, Life was going to be ok.. A struggle, but ok.. and it is..! Another story is, our family has been broken for years, It's sad and getting better.. But the healing began when We had a small cookout.. We all come from a good cook Family.. So everyone brought their favorites.. We cooked Good burgers and food.. Everyone started to TALK... and Heal.. We are all looking forward to sharing more and healing our broken Family. Food has a way of bringing people together.. To just sit around the grill, smell the aromas, company, laughter, and great food.. The Talking starts when everyone smells the great grill smoke and aroma's. It's a Wonderful start, to enjoy and heal a family and also to keep a happy family together. Share food and share meals together.. with a stupid cell phone."
"I went through early family life with the typical Weber charcoal experience and the learning curves - stop using starter, etc. Bored with Turkey at the Holidays I started smoking a Holiday Goose. I was instructed to keep that damn Goose out of my kitchen. We are the host of our families and ""my"" kitchen will be very crowded. So , I marinated my goose and started smoking early Thanksgiving morning. When the Goose was finished I sliced it up and surronded the 20 lb Turkey, cooked in ""her"" oven, with its sliced moist meat. I was the host in the head chair and ,as such, watched the main turkey tray be circulated among our 18 or so guests. To my dismay when the tray made it back to me NO goose. That did it. The Turkey was relegated to a breast only and my goose became ducks and so I would marinate 6 ducks and roast. While my mother was alive , a fine lady, she loved the dark moist meat that was pinkish red. I had some friends who insisted upon my participating in a deer hunting trip. For every objection I was met with a solution. You see, I had been sent by my parents to visit my Grandfather in Hondo, Tx during the Holidays so that they could travel. He put me in a Mesquite tree. In Texas the wind blows in the Winter Never in the Summer when needed. Having no gloves and craddling a 30 Ought 6 in below 20 degree wind I hated deer hunting. To keep my Grandfather's approval, I had to be a tough kid. For his deer heads were in every Hardware Store, rec room, barber shop, grocery store, around town. Now , to accommodate my friends, I drove over to deer hunt after I had pleaded that I would be glad to prepare, cook and clean up. And so I told the main hunt coordinator that I would like to bring over my roasted duck. His reaction was typical, ""Don't bring no damn greasy duck into THE hunting camp. However, I told my mother that I was coming over to deer hunt and was bringing roasted ducks. To which she asked that I bring her two ducks to leave with her. She had become addicted. Well, I said I would drop off two and take the other 4 roasted ducks to THE hunting camp. And so I did. I arrived and kept my 4 ducks wrappped in my cooler because I did not want to contaminate their camp with my greasy ducks. Up at 4 AM into my tree stand to tolerate boredom I sat. Until lunch. They rounded us all up and back to the camphouse. I screwed up and could only buy the shelf cheap white bread in rural deer country. And so I unwrapped one roasted duck and began slicing it. Made a sandwich with lettuce , tomato , mayo and ground pepper. To my astonishment, the Organizer asked if I could make him one of those duck sandwiches. He had seen the moist duck meat with very appealing pink red duck meat. I knew he was keenly interested. So , I said ""My damn Greasy ducks?"" And he said , ""yes."" And so I said, ""OK, but I am only going to fix 1/2 of a sandwich and if you don't eat that , fine. But not a whole one because my mother wants any leftover duck."" So I fixed a similar sandwich and when he bit into it his eyes got as big as half dollars. He finished it before I could my whole and asked ""Do you think.........wonder if I might........."" And I said ""Hell yes, I will fix you a whole one."" All 4 ducks gone before the weekend was even over and there were not that many of us - We had all arrived in one large pickup truck. Now, I have a lot of BBQ stories also - but everybody claims ""best"" of that traditional type grilling and so I wanted to comment about other grill exploits. Hope you enjoyed. I know I enjoy sharing. I don't have a picture to enclose yet - I will for next submission"
My son and daughter, now 25 and 14, still love Dad's (that's me) grilling time when the weekends roll around. Although we live in different states now, they await my summer visits and beg me to fire up the grill ASAP. Long lasting memories, and many more to be had. Nothing like grilling with, and for, your children. My parents have the same anticipation when I visit them!
We hope these stories will inspire you to send us your memories, traditions, and experience! Check out
the Contest page
for more information, get your writing mojo, crack your knuckles and get to writing us The Email that can win you a Free Steak Dinner!